Andy is a professional marine scientist and mariner with a Ph.D. in coral reef ecology from James Cook University, and the founder of the Coral Sea Foundation.
He managed the ecotourism activities aboard the expedition vessel True North for over a decade, surveying reefs and collaborating with First Nations people across a wide variety of tropical locations, from the Great Barrier Reef to Raja Ampat, West Papua, Solomon Islands and Papua New Guinea.
An expert underwater photographer and engaging public speaker, Andy's passion for the reefs, islands, and people of the Coral Sea Arc is tangible and drives the development of the Coral Sea Foundation as a platform for delivering his vision for marine conservation and sustainable reef management across the region.
Angela is the CEO of Melanesian Luxury Yachts and she brings a great depth of experience to the Coral Sea Foundation team.
She has travelled widely through the South-Pacific, and as a citizen of both Papua New Guinea and Australia, has a deep knowledge of Indigenous culture and a passion for humanitarian work and the empowerment of women in Melanesia.
Angela is an experienced businesswoman, expedition guide, and registered nurse, and she is rightly regarded as a regional expert in maritime operations planning and logistics.
Cristiana is a marine biologist, photographer, and filmmaker with a deep passion for oceanic exploration.
An experienced dive instructor and technical diver, her knowledge encompasses coral reef ecology with a special interest in shark conservation and she has worked for many years as a guide for National Geographic Expeditions to remote locations whilst focusing on her work as an advocate for marine protection.
Cristiana's knowledge of the Coral Triangle region and the Great Barrier Reef is a welcome asset to the Coral Sea Foundation team.
Naomi Longa - Manager: Sea Women of Melanesia Program
Naomi is a Papua New Guinean woman from the Island of New Britain and team leader for the SWoM Program in Kimbe and Manus.
The youngest of 6 children, she grew up swimming in the Bismarck Sea with the incredible coral reefs of Kimbe Bay at her doorstep. Inspired by the sea, she went on to obtain her Bachelor of Science in Biology at the University of Papua New Guinea, and completed her SSI Scuba Diver Instructor qualification with Pleasure Divers on Magnetic Island and Dive Munda in the Solomon Islands.
Since 2019, Naomi has been involved in training more than 25 new women in SWoM training programs in Milne Bay, Kimbe, and Munda and she has lectured on the role of indigenous women in marine conservation at international events in Port Moresby, Sydney, and Perth. Her work was recognised with the 2021 Blue Marine Foundation Ocean Award in the "Local Hero" category.
Brian is a proud Wulgurukaba man and a Traditional Owner of Yunbenun (Magnetic Island), and he is committed to assisting the Wulgurukaba people to deepen their knowledge and connection to their sea country.
He worked along the north Queensland coast for 17 years as a ranger for the Queensland Parks & Wildlife Service and remains an advisor to QPWS and the Great Barrier Reef Marine Park Authority on matters relating to the management of cultural heritage on Yunbenun.
Brian is also on the board of Djulin Marine Aboriginal Corporation and has a long-standing interest in developing giant clam aquaculture as a sustainable business for First Nations people in north Queensland.
Rebecca is a versatile professional who consistently exceeds expectations in diverse fields. Holding a B.A.Sc. in Environmental Management and Marine Science, she has established herself as a dynamic force in various sectors, collaborating with social enterprises, start-ups, government entities, and corporations. Her passion for the reefs, islands, and people of the Coral Sea Arc shines through her recent work on the new Coral Sea Foundation website.
While based in Noosa, Rebecca frequently embarks on journeys to the far north, immersing herself in the region she deeply cares about. She proudly serves as an ambassador for the Noosa World Surfing Reserve and has been recognized as an esteemed inductee into the University of the Sunshine Coast Sporting Hall of Fame, holding titles such as former Australian and Women's World Kitesurfing Champion.
With her attention to detail and unwavering dedication, Rebecca brings invaluable expertise and enthusiasm to the Coral Sea Foundation team.
Born and raised as a surfer and sailor in the Southern Ocean, Scott started out in small business in 1988.
Scott went on to serve throughout the world as a senior executive, professional consultant, and brand-builder in the global sports and action-sports markets. Specialising in international business development, distribution, sales, and marketing, Scott brings to the Foundation a passion for business development, partnerships, branding, and communications and an unrivaled knowledge of creating global brand awareness.
Scott served as Managing Director of Oakley South Pacific, Director of International, Oakley Inc, Managing Director of Oakley Europe, and President of Globe International Limited, among others.
Jake has a Ph.D. in Life from the University of hard knocks, joining the Australian Army at age 21 as a medical technician and eventually working in Iraq as a Special Forces medic, with his service recognised in the Australia Day Honours and Awards 2017.
Since leaving the defence force, Jake has completed tertiary education in paramedicine as well as completing the NSW Ambulance Rescue and Special Operations courses. He has consulted with government and non-government agencies in multiple locations around the world including Central Asia, the Middle East, South East Asia, outback Australia, and the Pacific, providing practical first-aid and evacuation solutions.
Most recently, Jake has worked in African conservation, training anti-poaching rangers in Zambia's Nsumbu National Park for the Frankfurt Zoological Society. When not working or planning the next adventure, Jake can be found surfing, diving, swimming in the ocean, bow-hunting, trail running, or rock-climbing in the hills.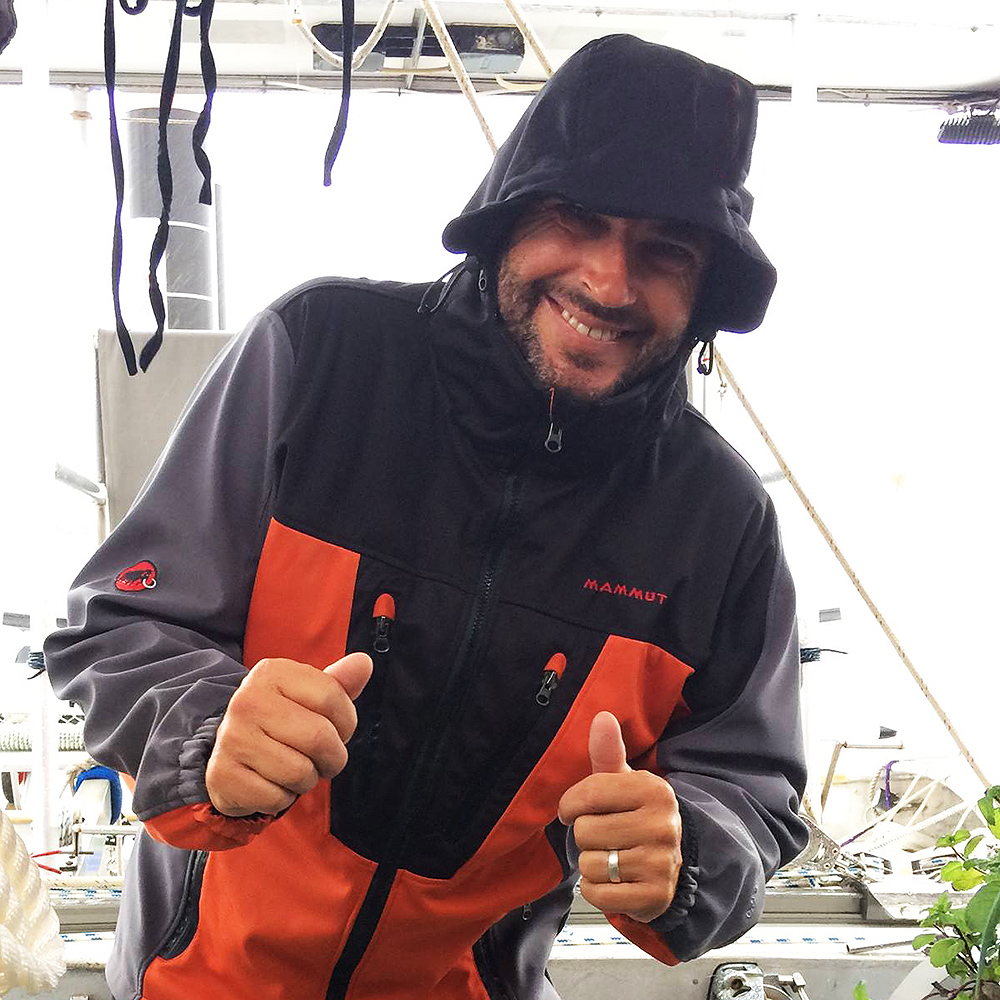 Andi is a lifetime multihull sailor and professional mariner, holding a Master IV certification and bringing to the Foundation a broad experience in the maritime industry, from commercial catamaran ferries to traditional tall ships, crew training, deliveries, and reef charters.
He has raced Open 60 trimarans through the West Pacific and SE Asia and is currently living aboard his third multihull, a 43ft aluminium catamaran. Andi has worked and sailed extensively through the Great Barrier reef and Coral Sea over the last 14 years, and is committed to the concept of sustainable ecotourism and reef management through Melanesia.
Dale is an environmental engineer with a strong track record for delivering transformative community aid projects through Africa, South-East Asia, and Melanesia with a focus on clean water, sanitation, and hygiene.
He founded the non-profit organisation MSABI in Tanzania in 2008, which now employs 75 people and has administered over US$3 million in aid grants. To date, MSABI projects have improved the lives of over half a million rural people in East Africa, and the organisation acts as a business incubator, encouraging local communities to develop sustainable enterprises around clean water delivery systems.
Dale has also worked extensively on water and hygiene projects in Solomon Islands, most recently with the United Nations Development Program, and has also participated in Surfaid International projects in the Mentawai Islands of Indonesia and the Vanimo region of Papua New Guinea. Dale is also a qualified marine biologist and keen surfer and SCUBA diver.